30 June 2022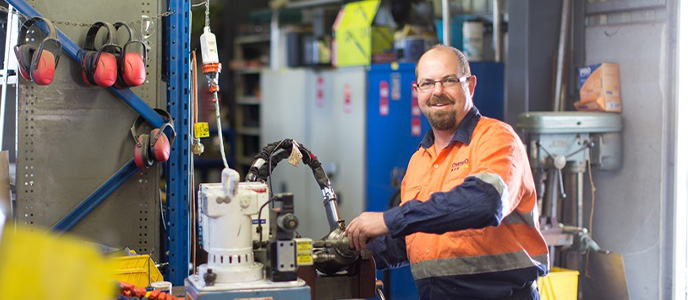 Our trade-qualified HUCK technicians provide specialty repair, servicing and programmed maintenance of customers' HUCK installation tooling and our comprehensive fleet of HUCK hire equipment.
ovesco is the only HUCK-certified repair centre in Australia, providing you with the advice you need on tooling repairs or specific requirements such as MDG41 compliance for the use of hydraulic tools in NSW mining applications. We can provide a scheduled maintenance program on tooling to satisfy a number of industry standards and can supply support documentation for certification. Repairing and servicing your fastening tools is part of our 100% commitment to providing a total HUCK solution. Our professional team can service and or repair tools from HUCK and other brands. Our experienced technicians can help quickly and efficiently assist you with all of your fastening tool repair needs.
What about Hire?
Hiring the right tools is easy with ovesco, with Australia-wide delivery and an extensive range, we take the hassle out of tooling hire. At ovesco we have a range of tools and equipment for hire, supplying to a wide range of markets including mining & resources, manufacturing, and rail. We are an Authorised HUCK distributor, proud to have the most comprehensive range in Australia. Our rental equipment is available from our workshops in NSW and QLD for dispatch around the country.
For the smaller diameter fasteners that include the HUCK Magna-Lok, Magna-Bulb and Magna- Grip we have pnuedraulic installation tools and nose assemblies for hire.
For the larger diameter products such as the HUCK C50L HUCKbolt XZ and BOM we have hydraulic installation tools with nose assemblies and Powerigs for hire. We have electric, air and petrol Powerigs as well as a large range of installation tools, nose assemblies and hose kits.
Hire rate options include daily, weekly and monthly with longer-term arrangements also available.
We also service PFDs
Your lifejacket, or Personal Floatation Device (PFD), is the most important piece of safety equipment on your boat. PFDs are exposed to heat, sun and salt, which means they can be easily subject to damage. A regular service makes sure the PFD is in good working order, keeping you safe. Servicing and certification is required every 12 months, or after any time the jacket is inflated.