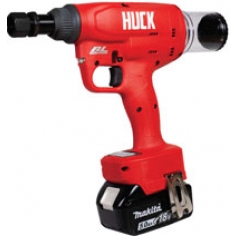 Card Number. 1896.91
The Huck® Range Force™ Battery Installation Tool
*BATTERY PACK NOT INCLUDED*
Arconic has joined forces with Makita®  to bring you industry-leading performance paired with superior reliability in our latest advancement in battery-powered installation tooling. The Huck®  Range Force is the only battery tool on the market with electronically adjustable pull force for installation of pintail-less lockbolts.
 Features:
The only battery tool with electronically adjustable pull force control
Exceptional quality for superior reliability & durability (tested to 50k installations)
High pull force (adjustable) & long stroke length for ultimate versatility
Can install the complete Huck range of structural & non-structural rivets (up to 1/4" / 6.4mm) as well as two-piece fasteners (up to 1/4" BobTail®  / MagnaGrip®)
Cross-compatibility with Huck noses and Makita 18v batteries
Capacity: 3/16" (4.8 mm) – 1/4" (6.4 mm)
Stroke Length: 30 mm
Pulling Force: Adjustable up to 20 kN Weight: 2.5 kg (5 . 5 lbs) with 5 Ah Battery Battery Pack: 18V / Li-ion / 5 Ah
Recharge Time: Approximately 45 minutes
Installations per Charge: Approx.* 1,500-2,500 6.4mm Rivets or 500-1,000 LockBolts
*Number of installations per charge will vary depending on fastener type, diameter, material etc.
*BATTERY PACK NOT INCLUDED*
Please contact us for pricing and availability