24 June 2019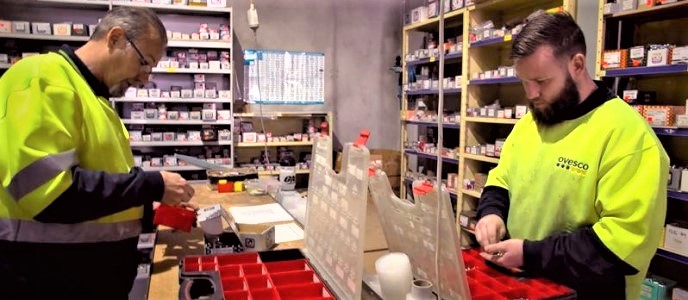 Fast and efficient processes are at the heart of any manufacturing business. Finding ways to minimise disruption, create a more efficient production line and run a leaner manufacturing warehouse are key to growth and success in a competitive marketplace.
 Kitting is an effective solution that can help you save time on the line.

Kitting means having all of your products customised to your needs and organised in one easy to access case so they can be delivered to the place of use or assembly. This process is designed to make the products you need easy to access to save time and boost efficiency on the production line.

When a production will incorporate many and varied smaller items (such as fasteners and hinges), having them in one kit will make it easier for your workers along the supply chain. Production timelines are strictly to schedule, and kitting is designed to reduce downtime and disruption caused in the warehouse when products are not on hand.
The benefits of kitting for your business
Free up space in the workshop. Having your items in one place and easily moveable between your inventory and workshop will allow you to devote more floor space to production.
Increase productivity on the production line. With kitting services, you are able to start the manufacturing process outside of your workshop. Pre-sorted kits reduce any wasted time sourcing items and equipment that are not available in the production line.
Reduce labour costs and waste. Pre-sorted kits save on labour and the time-consuming task of staff sorting through your inventory, pulling parts for installation and logging usage.
Reduce order costs and improve efficiencies. By ordering in a kit form you can save on delivery costs from multiple suppliers and the items can be processed in bulk rather than individually when they are received at your workshop.
Make ordering easy. Using a kitting service reduces reliability on your team to source multiple items from multiple suppliers. ovesco will source each individual part for your needs and provide it in one package, and can provide you with updated, quality parts on a monthly, quarterly or yearly basis as needed.
What questions should I ask a supplier before I receive a customised kitting service?
 Finding a provider of kitting services for your manufacturing workshop requires careful forethought. There are some questions you should ask your supplier before committing to their kitting services.
What quality of goods will be sourced? It will save you money in the long run to ensure the products you purchase for your assembly line are high quality and can meet the demands of your work environment. This will also reduce downtime and costs reinstalling or fixing equipment later.
Can the supplier meet your demands as your business grows or evolves? Manufacturing businesses today need to be nimble to thrive, so you need a supplier who is flexible and has adequate resources to be able to grow with your business.
What is the expected turnaround on requests? In today's fast-paced world, it pays to work with a supplier who can cater to your company's needs as you change direction or in emergencies, as well as for everyday needs.
Does the supplier have a good reputation and extensive experience in your industry? It is important to look for a kitting service provider that has years of experience in the industry and a positive reputation.
Will your supplier provide support during the kitting process? Having someone you can rely on throughout the process is essential to ensure your needs are met. ovesco helps businesses to grow by offering a range of services to help you perform at your best, including supply chain assistance, product sourcing, business discounts, business alerts, an online hub for businesses and customer support.
How could the kitting process work for me? Kitting services are designed to help you run a lean manufacturing environment. When a production will include many and varied smaller items (such as fasteners, hinges, latches and latches), having them all in one kit will make it easier for people along the supply chain.
ovesco brings quality parts to hard-working businesses and has offered high-quality and reliable kitting services for many years. Contact us today on 1800 811 556 to find out how our kitting services can help optimise your business or click here for more information.