24 October 2023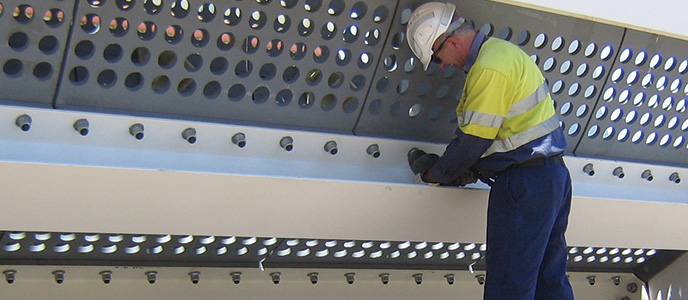 When it comes to choosing the right fasteners for your project, making informed decisions is more than just a best practice – it's a fundamental requirement. Fasteners are the unsung heroes holding together the world around us, from the mining equipment deep beneath the Earth's surface to the vehicles that transport us safely from one place to another. At Ovesco, we recognise the pivotal role that fasteners play in ensuring the integrity and safety of structures and equipment. This comprehensive guide aims to empower you with the knowledge needed to choose the right fasteners for your applications. We'll explore the key factors to consider, common applications, and the diverse range of HUCK fasteners we offer, known for their strength and resilience.
Factors To Consider
When it comes to choosing fasteners, several key factors should be kept in mind:
Corrosion: For transport, such as trucks and trains, exposure to the elements can lead to corrosion. HUCK fasteners are designed with superior corrosion resistance, ensuring they stand the test of time. This means you can rely on them to maintain structural integrity, even in challenging environments.
Weight: Different modes of transport must manage varying weights and stresses. HUCK fasteners allow you to achieve a delicate balance between weight reduction and maintaining strength. This means you can use fewer fasteners or opt for lighter materials, ultimately enhancing your equipment's performance and efficiency.
Vibration: Transport vehicles frequently encounter vibration and shock during their journeys. HUCK fasteners are engineered to withstand these forces, ensuring that your equipment remains stable and safe, even in demanding conditions.
Common Applications
Fasteners are integral to a wide array of industries and applications, including:
Construction: In building and infrastructure projects, fasteners are used to secure structural components, ensuring safety and stability. Whether it's towering apartment buildings or bridges, the right fasteners are vital.
Automotive: The assembly of vehicles, from engine components to body panels, relies on the strength and reliability of fasteners.
Agriculture: Farming equipment must withstand the rigours of the field. Durable fasteners are essential to ensure equipment performs reliably.
Aerospace: In the aerospace industry, fasteners must meet rigorous standards for safety and reliability in aircraft assembly. The consequences of subpar fasteners in this sector can be especially severe.
Manufacturing: Fasteners are essential in manufacturing processes, holding machines and equipment together. Precision and reliability are key in these applications.
Fastener Types
Fasteners come in a multitude of forms, each designed for specific functions. Ovesco provides a diverse range of HUCK fasteners, including:
Magna-Lok: A versatile all-steel structural rivet, ideal for multiple material grip ranges. Featuring HUCK's unique 360° internal locking mechanism, it offers great resistance to vibration and moisture.
Magna-Bulb: Renowned for its excellent clamping power in specific material grip ranges. Magna-Bulb produces a wide blind side footprint that spreads the load, making it ideal when used in the fabrication of thin steel sheeting.
Magna-Grip: This two-piece pin and collar combo is used in the fabrication of various applications, including truck trailers, ute trays, and emergency vehicles, where vibration resistance is critical.
BOM: Often used as a replacement for welding, HUCK's BOM structural rivets are incredibly strong and can do the work of up to four bolts and nuts. They are ideal for military vehicles, high-security fencing, rail car assembly, and more.
C50L: An oversized HUCK bolt that has faithfully served Australian heavy engineering for many decades, C50L provides excellent clamping power making it ideal for mining equipment, truck chassis, and railway applications.
Breaker Bolt: Designed to address loosening bolt problems associated with rotary coal breakers, the HUCK breaker bolt is a robust solution for challenging environments.
Ovesco's Expertise
Ovesco's commitment to quality and expertise in fasteners is unparalleled. Our team are dedicated to assisting our customers in making informed decisions. Whether you need advice on the right fastener for a specific application or want to explore custom solutions, Ovesco is here to provide the expertise and support you require.
Choosing the right fasteners is a crucial step in ensuring the safety and performance of your projects. With Ovesco's range of HUCK fasteners and our commitment to quality and expertise, you can trust that you're making a sound investment. Whether you're building, assembling, or fabricating, Ovesco stands ready to provide you with the right fasteners and the knowledge to make informed decisions. Your projects deserve the best – choose HUCK for strength, resilience, and unmatched expertise in fasteners.