28 November 2017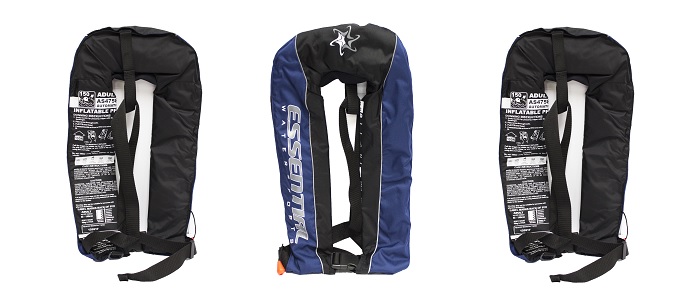 Your lifejacket, or Personal Floatation Device (PFD), is the most important piece of safety equipment on your boat. Even the strongest swimmer could tire and drown after extended time in the water, and that is if you are conscious when you go in. If you fall out of the boat and hit your head on the way overboard your lifejacket will be the only thing keeping your head above water. Wearing the correct PFD for the conditions and activities you are undertaking is essential, and as such there are regulations for PFDs that must be followed at all times when within Australian waters. These regulations apply to not only the type of PFD that must be worn, but also how often it must be serviced and certified.
TYPES OF PFDS
There are several classifications of PFDs each designed for a different purpose. The three categories used in government regulations are 100+, 50, and 50S. The 100+ PFD is the most common and is required in any commercial activity or professional role around the water.
LEVEL 100+ PFDS
These were formerly referred to as 'Type 1' and provide a high level of buoyancy.
These lifejackets are designed to keep an unconscious person's mouth and nose clear of the water without any action by the wearer. These jackets can be inflatable, or non-inflatable. Inflatable jackets use C02 canisters to inflate air bags, are generally more comfortable to wear while offering more freedom of movement than non-inflatable jackets.
The downside is that these lifejackets require regular servicing to remain functioning.
The non-inflatable jackets have built in foam for buoyancy and require no maintenance. All 100+ PFDs are required to be highly visible colours. This class of PFD includes level 100, level 150 and level 275 which provide progressively more buoyancy and are suited to different conditions. Level 275 PFDs are designed for offshore operations where the wearer is typically wearing heavy gear and conditions can be very rough.
Servicing PFD's
The servicing procedure depends on the type of jacket. Manual PFD's will be inspected for any wear and tear on the straps, buckles and bladder. While bladders can be patched in theory, this would compromise the integrity, so any damage to the inflatable bladder means it must be replaced. The gas canister that inflates the bladder is also inspected for corrosion and recharged with gas. For automatic inflating PFD's servicing includes all the above plus the water sensor is inspected and replaced if required. Servicing and certification is required every 12 months, or after any time the jacket is inflated.
ovesco is the only company in the region that services PFDs, and handles the requirements of the army, the water police and the border patrol. Servicing typically has a turnaround time of a few days. Contact our office for more information or a quote.