27 September 2023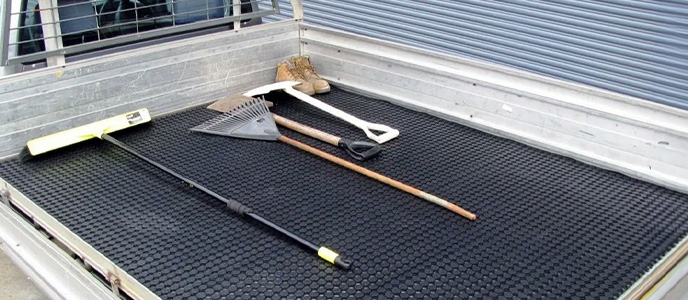 A DIY Guide to Durability and Grip
When it comes to protecting your ute tray and ensuring a safe, non-slip surface for your cargo, Ovesco's Rubber Ute Matting is the go-to solution. In this guide, we'll walk you through everything you need to know about our heavy-duty rubber matting, from measuring to easy DIY installation.
Why Choose Ovesco's Rubber Ute Matting?
Our rubber ute matting is designed with tradies and hardworking utes in mind. Here's why it's the perfect choice:
Durability: Made from 10mm heavy-duty rubber, our mats are built to withstand the toughest conditions, including grit, grime, and being exposed to the elements. They are designed for long-lasting use, making them an excellent investment.
Slip Resistance: Safety is a top priority. Our matting offers slip resistance, ensuring that your cargo stays securely in place.
Abrasion Resistance: The matting is highly resistant to abrasion damage, further extending its lifespan. You can trust it to protect your ute tray for years to come.
Versatile Use: While perfect for lining ute trays, our UV stabilised rubber matting is also ideal for vans and any commercial vehicle that needs protection. Additionally, it's suitable for workshops, industrial spaces, floors, garages, outdoor areas, loading docks, and more.
Measuring Your Ute Tray
Before you order your rubber ute matting, you'll need to measure your ute tray accurately, remember that it's sold by the metre, with a standard width of 1830mm. Here's how to measure:
Start by measuring the width of your ute tray. Ovesco's matting is designed to be 1830mm wide, making it an ideal fit for both aluminum and steel ute trays.
Measure the length of your tray from the front to the back, ensuring you cover the entire surface.
Note any irregularities or protrusions in your tray, as you may need to trim the matting to fit around them.
Note: Please be aware that if you purchase cut lengths of the matting, Ovesco may not be able to accept your order as a return due to the custom nature of these cuts. To avoid any confusion or potential issues, we recommend contacting Ovesco before making your purchase if you're unsure about the required length for your project. If your project requires a substantial amount of matting, consider our full rolls, which are 10 metres in length. This option can be a cost-effective solution for larger applications.
Easy Installation
Once you have your matting, it's time to install it. Here's how to do it easily:
Lay the matting flat in your ute tray, ensuring it covers the entire surface.
Using a sharp knife, carefully cut the matting to fit your tray's dimensions. Take your time and make precise cuts.
If you encounter irregularities or protrusions, use your knife to make necessary cutouts or adjustments to ensure a snug fit.
Ensure that the matting sits flat and securely in your tray, without any wrinkles or overhanging edges.
That's it! You've successfully installed Ovesco's Rubber Ute Matting to protect your ute tray and keep your cargo secure.
Our rubber ute matting is a rugged and durable solution that's easy to install yourself. Whether you're a tradie looking for added protection or need a versatile matting solution for various applications, Ovesco has you covered. Invest in the best, and enjoy the benefits of a slip-resistant, abrasion-resistant, and long-lasting matting solution for your ute. Feel free to reach out to Ovesco's knowledgeable team if you have any questions or require further assistance with your project.