21 November 2023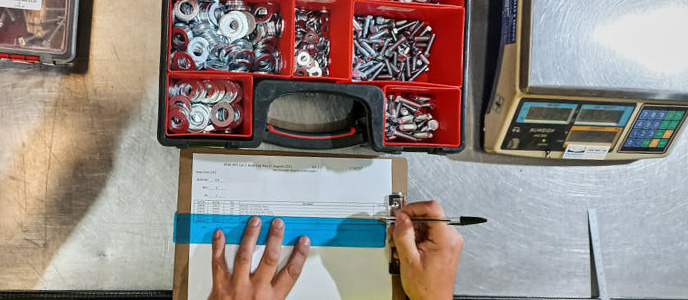 In today's fast-paced manufacturing landscape, efficiency and precision are paramount. Ovesco, a trusted name in industrial and transport fasteners and hardware, takes pride in offering a comprehensive solution to enhance your production processes – kitting. Here's why choosing Ovesco for your kitting needs is a strategic move for your business:
1. Australia-Wide Delivery
With Ovesco, enjoy the convenience of Australia-wide delivery. No matter where your operations are located, our custom kits will reach your doorstep, ensuring a seamless integration into your production line.
2. Save on Warehouse Space and Production Time
Say goodbye to the challenges of excess stock and the need for extensive warehouse space. Ovesco's custom kitting allows you to receive precisely what you need for each project, minimising storage requirements and saving valuable production time.
3. Optimised Storage and Warehousing
Our kitting process is designed for efficiency. By consolidating related products into a single kit, we help you optimise storage and warehousing, streamlining your inventory management.
4. Less Waste and Packaging Requirements
Ovesco's commitment to sustainability shines through our kitting solutions. By providing exactly what you need for each project, we minimise waste and packaging requirements, contributing to a greener, more eco-friendly approach.
5. Faster and More Efficient Production Processes
Experience faster and more efficient production with Ovesco's kitting. Our team identifies and packs the exact components you need, reducing the time spent searching for and organising materials on the production line.
6. Improved Productivity and Business Profitability
Efficiency translates to improved productivity and, ultimately, enhanced business profitability. Ovesco's kitting solutions are tailored to boost your operational efficiency and contribute to the overall success of your projects.
7. Simplified Inventory Management
Ovesco takes the complexity out of inventory management. With our custom kits, you receive a clearly labelled container of components, simplifying the tracking and management of your inventory.
8. Minimise the Risk of Delays or Inadequate Supply
Reliability is at the core of Ovesco's custom kitting services. By working closely with manufacturers and following a meticulous quality control process, we minimise the risk of delays or inadequate supply, ensuring your projects stay on track.
9. Enhanced Quality Control
Every custom kit undergoes a thorough quality control process. We confirm the bill of materials with you, source the best packaging, negotiate with suppliers for timely delivery, and label each kit for a comprehensive audit trail.
At Ovesco, we understand that every project is unique. Our kitting team collaborates closely with manufacturers to create custom production kits tailored to your specific needs. Choose Ovesco for custom kitting solutions that elevate your production processes.