2 December 2021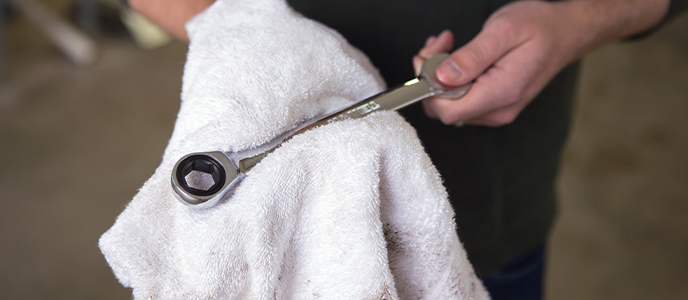 Industrial rag options are always in stock at ovesco – we created a handy Industrial Rag Guide to provide helpful advice
ovesco can supply a variety of industrial rags for all of those messy industrial cleanup needs. We provide fast shipping and expert advice and have a wide selection of industrial cloths available.
Some things to consider are cost, how much absorbency you will need, and if you plan to reuse it. It also needs to be a tough rag to stand up to industrial-strength jobs. These messes can be a lot tougher than normal clean-up scenarios; grease, oil, leaking machines, fire/water restoration…you get the picture.
Scanned for metal and compressed, stringent quality checks ensure the cloth is suitable for commercial purposes. Not all materials are created equal, that's why we only source our rags from premium quality, Australian sourced used clothing that's been sorted and cut for your specific purpose. For over 60 years, we have been supplying quality material for a wide range of applications. Plus we supply them in easy-to-carry 10kg bags, with OHS in mind.
Coloured T-Shirt: Very good absorbent power, lint-free. Used for cleaning and polishing in printing, panel beating, automotive servicing industry for quality general cleanings. 
White T-Shirt: Premium quality products for lint-free cleaning and quality polishing. Used mainly by panel beaters, printers, and marine engineers. 
White Cotton: Useful for a wide range of applications including garages, machinery, general cleaning, car dealerships, shipping, aeronautical, car washes, detailing, food industries, printers, newspapers, and is good for colourfast requirements.
Light Cotton: Useful in the cleaning of glass and hard surface areas. 
Medium / Heavy Cotton: A heavy-duty product for the hardest cleaning problem. Cost-effective, can be used in any area of the workshop and across a broad range of industries. 
Fleecy: Good for absorbing oil spills and heavy-duty cleaning. Used for maintenance in trucks & trucking companies and heavy engineering workshops. 
Flannel: Popular for cleaning and polishing. Soft and lint-free. Preferred by smash repairers. Used in panel beating, painting, fiberglass, and other engineering industries. 
Panda: An economic mix of products containing soft cloth, light cotton, and fleecy used for general cleaning and workshop spills. 
Coloured Towel: Manufactured from good quality towels and towel products. Used for soaking heavy spills. 
White Towel: Manufactured from good quality towels and towel products. Used for soaking heavy spills, colour fast.
White Cotton Hotel Sheeting: An economical and multipurpose lint-free cleaning rag, very absorbent and ideal for cleaning glass, mirrors and windows and other low lint tasks
White Cotton Hospital Blanket: Highly absorbent, extremely soft and easy to clean materials or to remove dust resulting shiny surfaces.
Microfibre Cloth: Soft, durable, absorbent cloths perfect for use around the home, office, car, or kitchen.
Our rags are sourced from local Australian charities using recycled clothing. You can trust that our rags have been vigorously washed and passed through metal detection before being packed.
All rag has been quality checked and passed through a metal detector to ensure they are safe for use - watch how