25 October 2023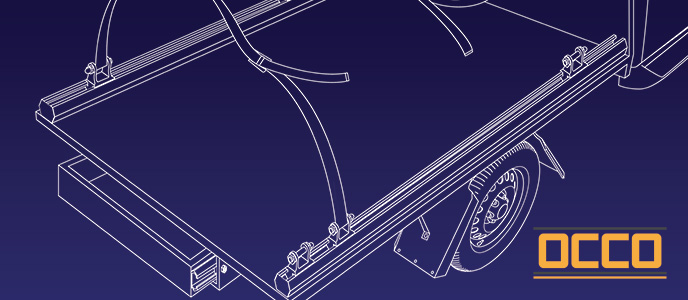 For tradies, having a reliable and versatile system for storing and securing equipment and loads is paramount. This is where the Occo Track System steps in, offering a comprehensive solution that's both functional and customisable. Let's delve into the key features of this innovative system and how it can enhance your ute.
Key Features and Customisation
At the heart of the Occo Track System are its various components: the Aluminium Track, Tie Down Bracket, Inner "V" Wheel, Stopper, and End Cap. What makes this system truly stand out is its flexibility, allowing you to customise it to suit a wide range of uses.
The Aluminium Track serves as the foundation of the Occo Track System. It comes in 2800mm lengths that can be cut to size, ensuring a perfect fit for your needs. What sets it apart is its impressive weight rating. Rated at 100kg at 780mm drawer extension, this track is built to withstand heavy loads and provide consistent performance.
Securing your load is a breeze with the Horizontal and Vertical Tie Down Brackets. These integral component fits snugly inside the track and is designed to work seamlessly with straps. The metal bushed pivot hole reduces wear and tear, ensuring long-term durability. The knurled grub screw allows you to lock it securely in position, providing peace of mind that your cargo is safe and sound during transit.
The Inner "V" Wheel is the unsung hero of the Occo Track System. Available in 40mm threads or 60mm threads, they sit inside the track, effortlessly creating smooth and reliable drawer slides. This feature ensures that accessing your equipment is not only convenient but also hassle-free. No more struggling with stuck or jammed drawers.
The Stopper is another valuable addition to the Occo Track System. It fits snugly inside the track and can be easily locked in place using the knurled grub screw. The Stopper allows you to customise how far you want the drawer to extend. This level of control ensures that the drawer doesn't slide out too far, providing added safety in handling your equipment and loads.
Completing the Occo Track System is the End Cap. This unassuming component adds a touch of finesse to your installation, giving it a clean and finished look. While it may seem like a small detail, it plays a crucial role in ensuring that your system not only performs well but looks good while doing so.
Applications in Trades Vehicles
The Occo Track System is ideally suited for tradies' vehicles, particularly utes and trucks. Whether you're a builder, electrician, plumber, or any professional requiring equipment and load transport, this system simplifies the process. It secures your tools and materials, making them easily accessible and organised, saving you time and effort on the job.
With its adaptable components, Occo Track System provides a tailor-made solution for securing and organising your equipment and loads, and for many, it is a game-changer. From the sturdy Aluminium Track to the dependable Tie Down Brackets, the smooth Inner "V" Wheel, and the finishing touch of the End Cap, this system is designed to make your life easier and your work more efficient.
Consider the Occo Track System for your ute and experience the difference that true versatility and functionality can bring to your everyday tasks. It's not just a system; it's your ultimate ute companion.